The question that probably occupies employees and trainees the most is: What will my workplace look like in the future? After all, as already mentioned, many people are unsettled by digitisation and the changes it has brought along with it. Which activities will still be in demand in the work environment of tomorrow and what role will computers and robots play? 
Studies show
Much hype about a study
In 2013, the two Oxford University researchers Carl Benedikt Frey and Michael A. Osborne published a study on the future of the work environment, that frightened many people: The study stated that 47 percent of all jobs in the USA run the risk of being automated in the next 10 to 20 years (see Frey and Osborne (2013): The Future of Employment: How Susceptible Are Jobs To Computerisation?, Oxford Martin School (OMS) working paper, University of Oxford, Oxford).
However, a study by the Organisation for Economic Cooperation and Development (OECD) from 2016 showed that these fears are unfounded and states that in the 21 OECD countries studied, only an average of 9 percent of all jobs can be automated. For Austria the percentage is 12 percent (Arntz, Gregory and Zierahn (2016): The Risk of Automation for Jobs in OECD Countries: A Comparative Analysis, OECD Social, Employment and Migration Working Papers No. 189, Paris)
In order to be able to make a forecast for the future, it is useful to first look at developments in the recent past.
For a better understanding we divide the activities into six different categories:
analytical activities (activities that require abstract thinking, such as making a forecast for market research)
interactive activities (activities involving other people, such as selling shoes)
cognitive activities (activities that require cognitive processes such as remembering, learning, comparing, etc., for example, translating a text)
manual activities (activities carried out by hands, such as planting vegetables)
routine activities (activities involving a large number of repetitions, such as assembly line work)
non-routine activities (diversified activities, in which one must always adapt to new circumstances)
Can you imagine which activities have gained in importance in recent years and which have become less important? The following chart shows the development since 1995:
Analytical cognitive non-routin activities such as

research
elaborating rules
 controlling
sing
Interactive cognitive non-routine activities

Negotiating
coordinating
marketing activities
training
Cognitive routine activities such as

calculating
correction of texts
preparation of the accounts
mechatronics
Manual non-routine activities such as

renovate houses
therapy (manual)
restauration of art
craft activities such as carpentry
Manual routine activities such as

Producing
operating or controlling machines
harvesting of cereals, fruit or vegetables
food cultivation
Remember
Manual activities and routine activities (with the exception of cognitive routine activities) have become less important since 1995 and it can be assumed that this trend will continue or even increase in the future. However, analytical and interactive cognitive non-routine activities are becoming increasingly important.
Jobs with a future
The best measure against unemployment is still education – around two thirds of all jobs at risk from digitisation are jobs for unskilled workers, craftsmen and women or service providers. The higher the level of education completed by the workforce, the lower the probability that their activities can be fully automated.
Social and creative professions such as teacher, graphic designer or nurse are likely to gain in importance. There will also be an increasing demand for management jobs such as project management or controlling and technical jobs or jobs that require strong fine- motor skills. Employees in the following areas will therefore continue to be in demand in the future:
Social professions:
doctors and physicians
teachers
nursing staff and managers
social workers
Creative professions:
graphic artists
copywriters
social media managers
Careers in management:
controlling
project management
customer management and support
Technical professions:
mechatronics engineers
IT project managers
IT security experts
food technologists
Future scenarios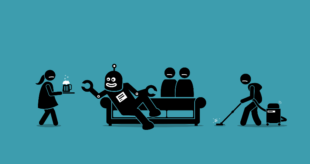 or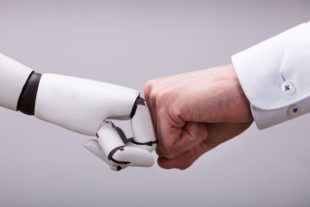 How do you specifically imagine the work environment of the future? Do you see people as subservient servants of the machines or do you dream of a world in which the machines are faithful assistants to people and help them to new heights?
In fact, there are both positive and negative predictions for the future with regard to the interaction between man and machine: It could be that more and more automation will be introduced, the machines will control themselves, and only "menial" activities (e.g. in the warehouse) will remain for the humans. It is, however, more desirable that IT assistance systems provide good service to highly qualified specialists such as doctors, but that decisions continue to be made by humans.
It should not be forgotten that humans have creativity, feelings, passion, imagination, respect, opinion and the ability to handle unforeseen situations, and are thereby still far superior to robots in this areas. The fact that there is still no way around digitalisation should already have been made clear in this unit. However, how it is dealt with in practice is left to society and thus to each and every one of us